S-Bahn - City Railway
S-Bahn - City Railway
The Munich S-Bahn (German: S-Bahn München) is an electric rail transit system in Munich, Germany. "S-Bahn" is the German abbreviation for Stadtschnellbahn (literally, "urban rapid rail"), and the Munich S-Bahn exhibits characteristics of both rapid transit and commuter rail systems.
The Munich S-Bahn network is operated by S-Bahn München, a subsidiary of DB Regio Bayern that is itself a subsidiary of the German national railway. It is now integrated into the Munich Transport and Tariff Association (Münchner Verkehrs- und Tarifverbund, MVV) and interconnected throughout the city with the locally-owned Munich U-Bahn. Today, the S-Bahn covers most of the populated area of the Munich Metropolitan area of about 2.7 million inhabitants.
Frequency & scheduling
The basic interval of the Munich S-Bahn is one train every 20 minutes. On parts of some branches during peak hours there is a 10 minute frequency produced by added trains. A special case is the line to Erding, where on weekdays a mix of express trains from Erding and normal S-Bahn trains from Markt Schwaben runs in the morning peaks, producing a 10 minute frequency west of Munich East station. There are also occasional additional trains on the western section of the S4 and on the S1 between Freising and Munich during the peak hour, which do not continue past the Hauptbahnhof (not run through the trunk line tunnel). One of three trains do not run to the end some branches at off-peak times, so that on these outer sections trains run at 20 or 40 minutes alternatively.
Move your mouse over the image for a zoomed view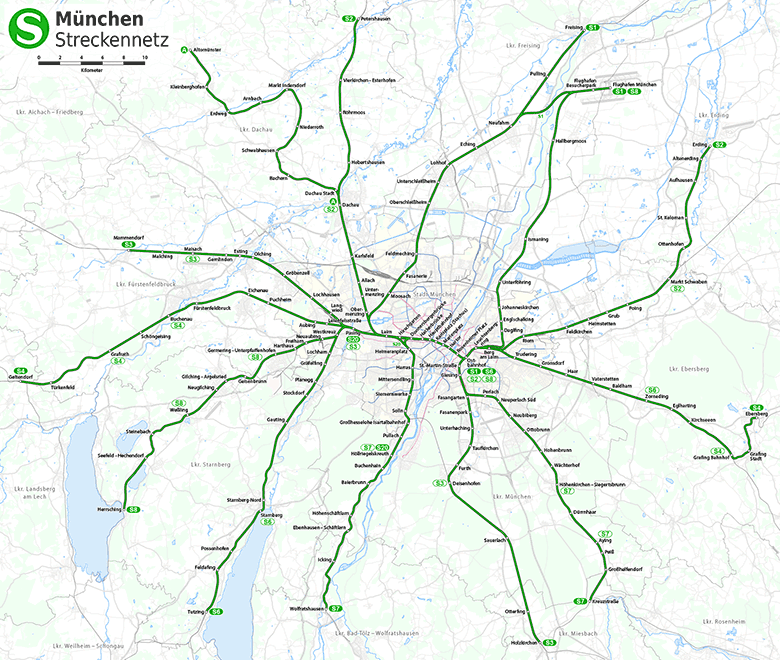 S-Bahn - City Railway at a glance!
Photos
Address and Links
DB Regio AG S-Bahn München
Orleansplatz 9a