U-Bahn - Subway
U-Bahn - Subway
The Munich U-Bahn (German: U-Bahn München) system is an electric rail rapid transit network in Munich, Germany. "U-Bahn" is the German abbreviation for Untergrundbahn or "underground railway". The Munich U-Bahn began operation in 1971. It is operated by the municipally owned Münchner Verkehrsgesellschaft (the Munich Transport Company) or MVG. The network is integrated into the Münchner Verkehrs- und Tarifverbund (the Munich Transport and Tariff Association) or MVV and interconnected with the Munich S-Bahn system. The Munich U-Bahn system currently comprises eight lines, serving 96 stations (100 stations if four connecting/transfer stations are counted twice), and encompassing 95 kilometres (59 mi) of routes.
Network, frequency & scheduling
The network has 103 kilometres (64 miles) of active route and 100 stations (Date: 2010). In 2013, 384 million passengers rode the U-Bahn. The trains operate at speeds up to 80 km/h, which is the top speed among German U-Bahns. There is no continuous operation during the night (break from 1 to 4 am, 2 to 4 am on weekends) except on special occasions such as New Year´s Eve.
Most lines operate with trains running at intervals of every 5 minutes during peak hours, but due to lines overlapping a suitable train for a journey can be as frequent as every 2 minutes. Outside of peak times lines operate trains at frequencies of every 10 minutes; however, around the start of operations and after midnight the line frequency decreases to every 20 minutes or more on most lines. Again with line overlap this means that a suitable train will arrive (often much) more frequently.
Move your mouse over the image for a zoomed view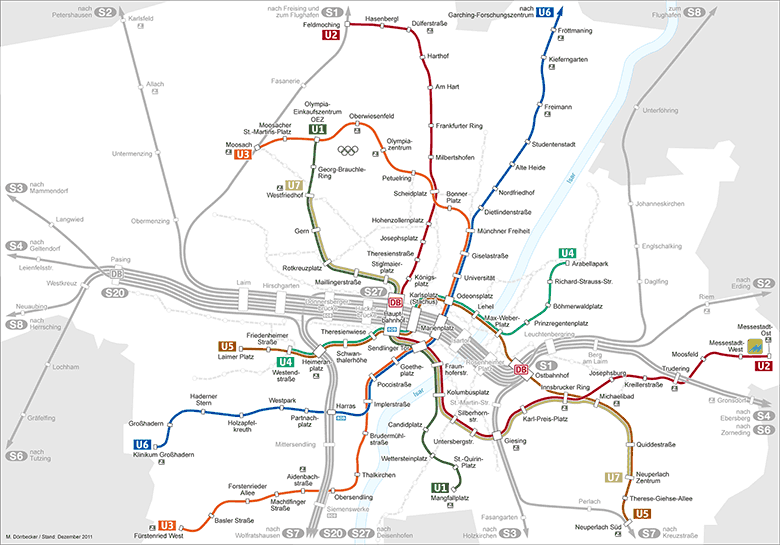 U-Bahn - Subway at a glance!
Photos
Address and Links
Münchner Verkehrsgesellschaft mbH (MVG)
Emmy-Noether-Straße 2