Mosques
Today besides the Islamic Center Munich there many other mosques in Munich. The following link will help to find them: http://www.moscheesuche.de/moschee/stadt/Muenchen/6751
Pasing Mosque
Pasing Mosque
Since 1985 there is a Turkish religious community in Munich. In 1999 a mosque with a cultural centre was opened in the borough Pasing.
The building is divided into the mosque with a prayer and washing room, a centre for women and young people, a tea room, seminar rooms and an area for the Islamic death ritual. A travel agency with a mobile communication provider is situated on the ground floor of the cultural centre. Upstairs, the three storeyed building, underneath the cupola there is a prayer room fitted with tessellations. A second prayer room is on the second floor.
The Turkish-Islamic cultural centre...
Photos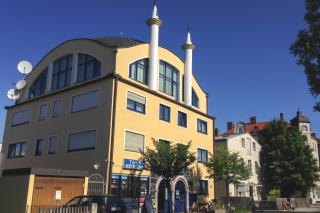 Map
Get there
Pasing Mosque Directions - Plan your Route with GoogleMaps
Address and Links

DITIB- Türkisch-Islamische Gemeinde zu München Pasing e.V.
Planegger Strasse 18 A
Further Information
Islamic centre Munich
Islamic centre Munich
Since 1973 there is a mosque in Munich which is today the Islamic Center Munich. It is situated in the north of Munich, in the borough Freimann. The mosque supports Muslims living in Munich and it also wants to contribute to a better understanding of the Islam in the region.
This german Website will help you to find other mosques in Munich
Photos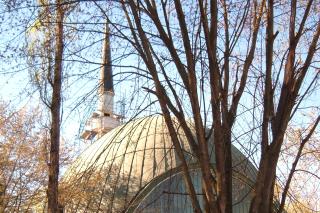 Map
Get there
Islamic centre Munich Directions - Plan your Route with GoogleMaps
Address and Links

Islamic centre Munich
Wallnerstr. 1-5
Further Information